Two-thirds of all U.S. adults – and nearly 90 percent of millennials – regularly use some form of social media. And those interactions are largely through the use of smartphones. That's good news for the marketing departments at fast-casual chains like Capriotti's, whose consumers are overwhelmingly young adults.
It's now become easier – and more cost-effective – than ever to directly reach wide audiences and drive traffic to our restaurants. Still, with 88 percent of restaurants engaging in paid media campaigns for their marketing plans, it's important we use a variety of advertising channels to stay competitive.
In the evolving landscape of restaurant social media and digital marketing, Capriotti's Senior Vice President of Marketing, Jane McPherson, manages to stay agile and stand above the rest. She shared some of the components of our comprehensive national and local marketing plans, and how these prove to be assets for franchise partners looking to boost sales:
Social Media Campaigns and Engaging Our Super-Fans
With its many free resources, social media is a critical element necessary in all restaurant marketing plans.
"At Capriotti's we use Facebook, Instagram and Twitter, and we program each of our platforms to have plenty of promotions and celebrate the core processes that make our food so delicious," Jane said. "We also have fun with it for things like National Sandwich Day or National Cheese Steak Day. And then, we do a lot of consumer-facing promotions to keep Capriotti's top-of-mind – we might highlight our sandwiches for a picnic or sports game. This gives our fans a reason to think of Capriotti's as they plan for different occasions."
In addition to free use of social media platforms, Jane and her team create paid social campaigns. In social posts and advertisements, they emphasize tight, close-up shots of Capriotti's hand-crafted, fanatically-delicious sandwiches.
"Our food looks a lot different than our competitors', so we crop in our ads really close," Jane said. "Our sandwiches with all that shredded meat, peppers, onions and cheese just looks really delicious. And, it's also authentically very delicious, so we don't have to do a lot of styling or augmentation to capture what we want to portray."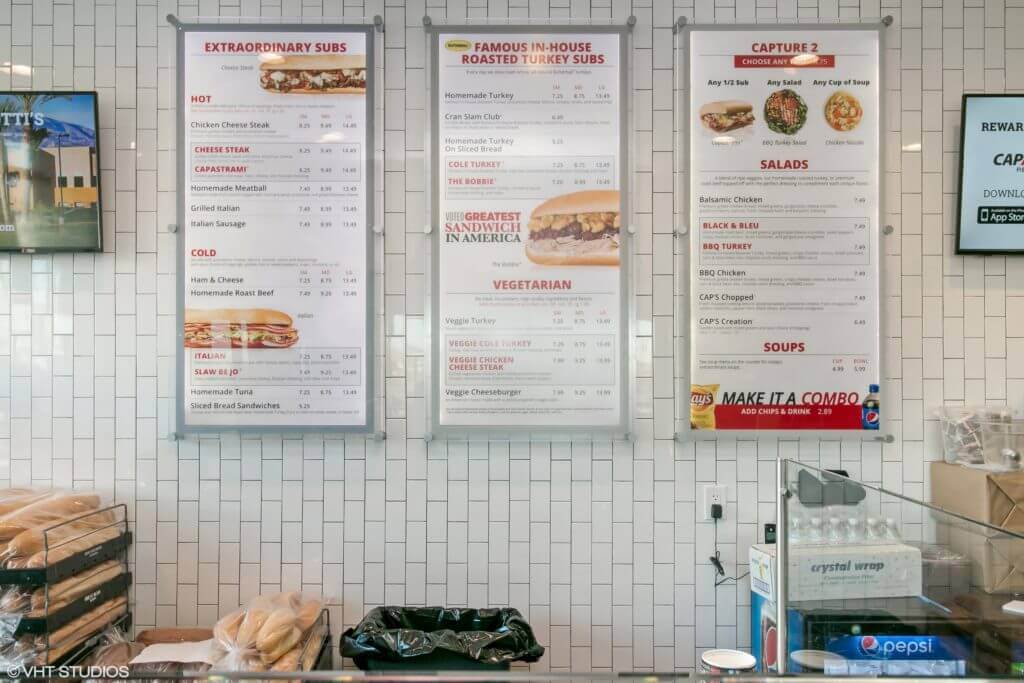 Caps App Programming and Messaging
At Capriotti's, our mobile app is one of our best methods for reaching our guests.
"All the app programming and messaging are done on a national level, but we really focus on the individual consumer and driving them to their nearest location," Jane said. "We can segment our messaging based on consumer interaction with the app. So, for instance, if someone bought catering in the past but hasn't bought it in the last six months, we can start sending them special messages and promotions to try to recapture that customer."
Whether it's giving out coupons or highlighting limited-time offers, the app is the perfect platform to drive our guests to go to their nearest Capriotti's.
"It's very segmented and customer-specific, and we do a lot to keep our consumers engaged," Jane said. "If someone has bought something in the past but not recently, we'll give them an incentive to order online or go into a store and buy it. If we're not reaching that audience that already clearly has a need for a specific sub or service, that's a missed opportunity."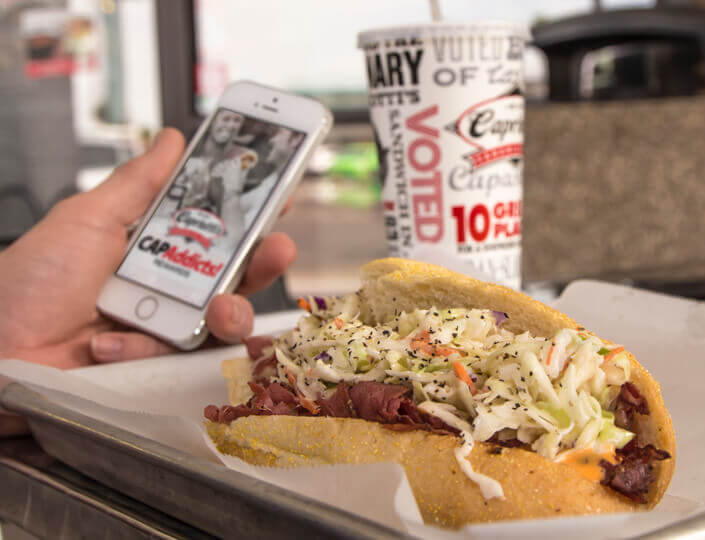 Social media campaigns and mobile app messaging are effective ways we target and engage consumers every day. Not only do they drive new customers to our stores, they bring repeat business back to our restaurant locations – maintaining and growing our guest base at every Capriotti's.
If you're interested in becoming a franchise partner with an innovative brand backed by industry-leading marketing support, contact us at 
(702) 745-5848

.