In the 40 years since our founders Lois and Alan Margolet established the first Capriotti's in Wilmington, Delaware, it goes without saying that we've seen an evolution of our restaurant design.
As we have evolved through the decades, one thing has remained constant – we've never fallen prey to the trend of the uninspired, mass-produced elements characterizing many of our competitors' décor preferences.
We've always prided ourselves on staying ahead of the trends (and avoiding the bad ones), while remaining a timeless heritage brand. Our periodic store design updates underscore our brand's agility and innovation, while still paying homage to our historic, small town and family-owned roots.
Our latest restaurant design prototype debuted in Utah last October, signaling our continued evolution away from the original classic diner feel that typified our flagship Delaware location. While staying true to the perennial cornerstones of our brand – authenticity, integrity and family feel, among others – our updated design also reflects our rapid nationwide franchise growth and commitment to development.
Here's more on how we merged form and function in our new restaurant design, creating a unique atmosphere for guests and operational advantages for franchise partners:
Staying True to Our Core Values
Our updated restaurant design prototype fosters a modern and upscale, yet friendly and comfortable atmosphere for guests.
The prototype, in line with other recently-built Capriotti's restaurant aesthetics, features raw materials and a rustic style. Along with the warm wood, brick and concrete, the new prototype also showcased our updated layout.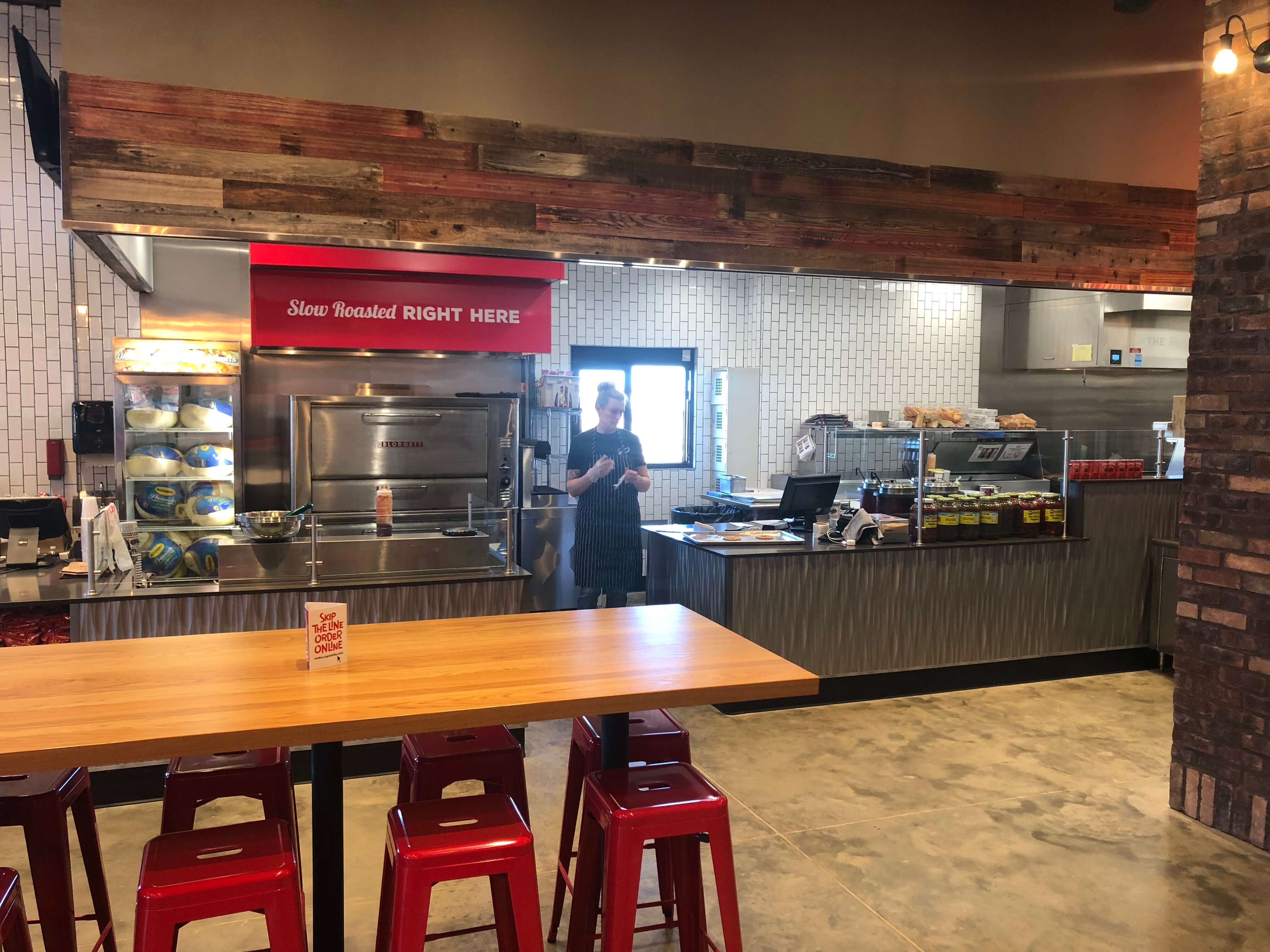 "As part of the new layout, we really wanted to emphasize our differentiation in how we prepare our food – all-natural, in-house and from scratch," said Capriotti's Director of Design and Construction Ja Haddad. "We moved the freezer for our turkeys – which we slow-roast every night for the freshest cut of meat – to the front of the house near the POS system. That way, the turkeys are the first thing guests see when they walk in the door, and we're really able to be transparent and showcase our clean ingredients and processes."
Stimulating Streamlined Operations with Linear Design
Aesthetics and transparency aside, the new design also offers guests the quicker to-go service they crave, while optimizing operations and maximizing efficiency for our franchise partners.
"Typically, we try to make sure the POS system runs parallel to, or alongside, the longer length of the restaurant, especially if it's a rectangular layout," Ja said. "That's the most efficient use of the space, allowing franchise partners to maximize their square footage, while putting guests directly into the ordering queue when they walk through the door."
Although the POS system design that follows the length of the building can be more efficient, POS systems facing the door, of which is found in the Capriotti's locations in Chicago, Illinois, and Sioux Falls, South Dakota, are not without their own strengths.
"Depending on the shape of the building, we'll typically end up with two different layouts – either with the queue and POS system running the length of the wall, or facing guests as they walk in," Ja said. "The former is more space-maximizing, but the latter has a really nice, open aesthetic and better visibility. Because both layouts have their strengths, we typically opt for the layout that makes the most sense within the physical location the franchise partner wants to utilize."
Regardless of overall restaurant and POS system layout, Ja and her development team always find the most elegant yet efficient layout for the given space.
As part of the new prototype, pick-up cubbies and windows are another central component of expedient operations, especially as more consumers opt for on-the-go food options. These pick-up sections land near the kitchen and sandwich-making area, so guests can quickly retrieve their food as soon as it's made.
Adapting the Prototype for Diverse Locations
When it came to the recently-opened Sioux Falls location, the development team implemented the updated but the building had various defining characteristics that meant the design, development and construction teams had to get creative.
"The building for the Sioux Falls Capriotti's already had a built-in pick-up window, so we designed our layout around that," said Ja. "After we got that portion figured out, everything else fell into place."
Within the first three weeks of opening, the new design, centered around the pick-up window, has already been paying off for the franchise partners. Nearly half of their orders have come from their pick-up window or cubbies.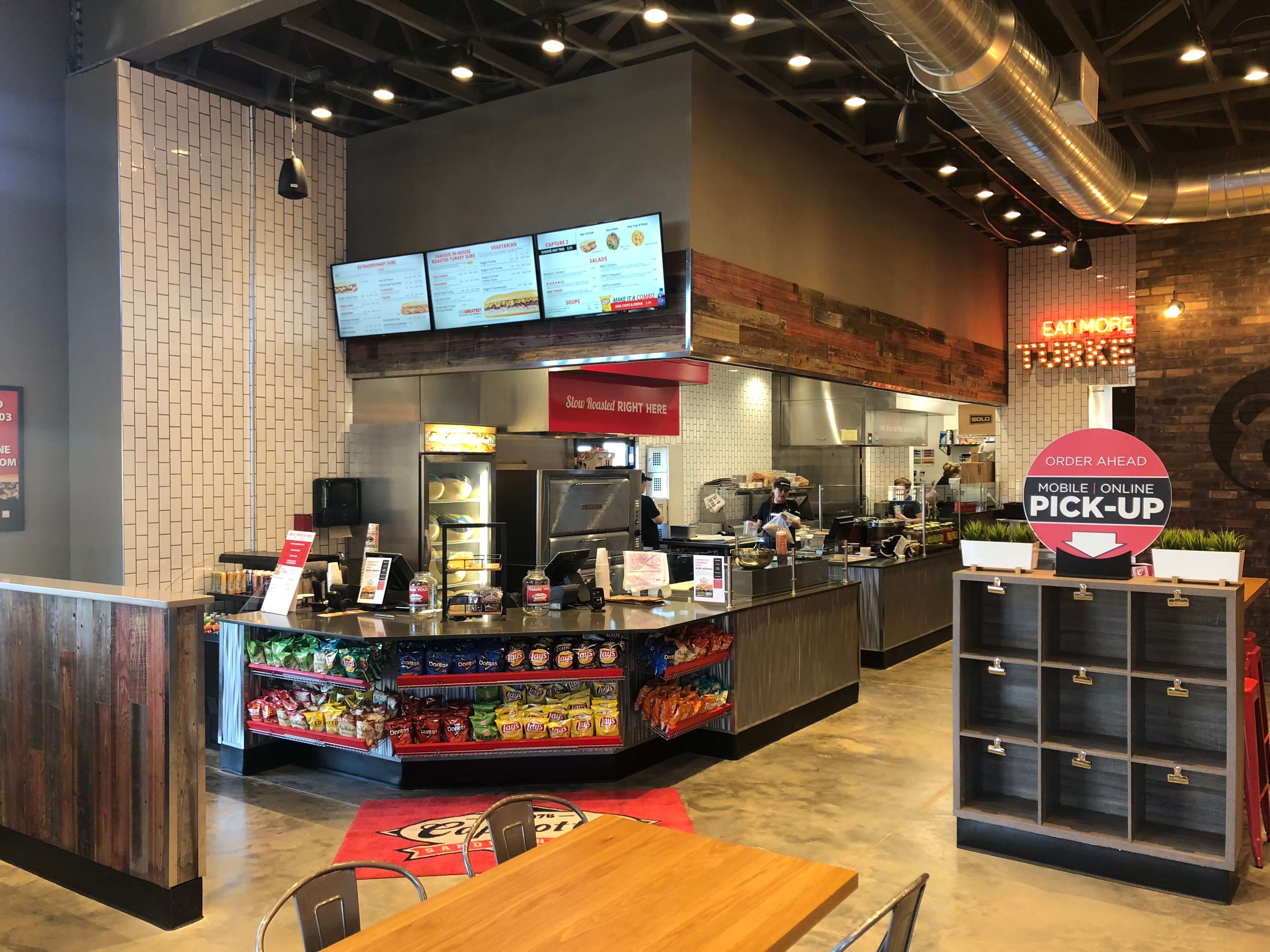 With a footprint of 2,200 square feet and holding more than 50 seats, the Sioux Falls location is also much bigger than most Capriotti's locations. On average, previous locations have stood at approximately 1,800 square feet.
However, with the new design, our brand is moving toward an even smaller model, accommodating more delivery and pick-up orders and fewer dine-in guests. The smaller square footage requirement will also make more real estate options available for franchise partners.
"Even though the Sioux Falls location is bigger than most locations, they're actually running out of room much more quickly than expected," Ja said. "We knew the market was amazing, so the franchise partners and our team decided the bigger space would be perfect to accommodate more demand. But, the restaurant is doing so much better than expected so quickly, and the franchise partners are actually thinking of taking over additional space next door to keep up."
Making Every Design Aesthetic On-Brand yet Unique
The Sioux Falls Capriotti's extra square footage also allowed Ja and her team to include additional design elements. The location touts more booths around the perimeter, as well as a larger dining area with communal tables and stool seating.
"We're very fortunate that Capriotti's has a really strong relationship with a best-in-class development company, so we're able to do something unique with every location," Ja said. "Our team works with the company, and whenever we can, we also coordinate with the franchise partner. That way, we can design a restaurant that really reflects our brand, as well as the franchise partner and their local market."
To learn more about franchise opportunities within a growing and innovative restaurant brand, contact us at 
(702) 745-5848

 or here.