When you're in the business of making the best sandwich in America, it takes a robust training program to ensure every franchise partner delivers the highest standards of quality and service. At Capriotti's, we're dedicated to being the best at what we do, and that includes the training we provide our franchise partners to set them up for success in their business.
Our hands-on, results-driven training program, CAPMastery, was designed to provide our franchise partners everything they need to successfully run their sandwich franchise. Our ongoing training program meets franchise partners where they are, with support tailored to each owner's level of experience.
CAPMastery consists of an initial meeting, and then we continue to support our franchise partners with quarterly in-store meetings and weekly calls held with a Capriotti's Franchise Business Coach. Our business coaches work with our franchise partners to review their restaurant's results and make sure they're able to meet their goals.
"It's a great program, especially for new franchise partners, because they are able to work hands-on with a liaison who is able to help them navigate each department of their business," said Glynn Chambers, Capriotti's East Coast Franchise Business Coach. "So, when I'm having weekly calls with them or during their quarterly visits, we can hone in on those issues and make sure we're taking care of their challenges."
CAPMastery Sets Franchise Partners Up for Success – But Doesn't Stop There
From the start, our CAPMastery program helps our franchise partners learn the Capriotti's brand inside and out. New franchise partners are trained on everything it takes to run a Capriotti's: signage, processes, recipes, managing food costs, staff training, our mobile app, community involvement, catering and more.
Franchise partners work with their franchise business coach in their first meeting to figure out what they want to do with the brand, how many stores they want to open, when their opening will be and how much to spend on their opening. They also use this meeting to plan ahead by determining 1-year, 3-year and 10-year business targets. Working hands-on with a business coach during this phase helps franchise partners have a solid foundation for building their business and reaching their goals.
CAPMastery isn't just for new franchise partners – the training is ongoing. For our veteran franchise partners, we go through many of the same processes, while also analyzing their store operations in depth. We help them get back to basics and work through how we can help them save money and bring more money to their bottom line.
CAPMastery Scorecard and CAPtain's Club Motivate Franchise Partners and Drive Results
At Capriotti's, we are committed to delivering uncompromising standards of quality and service. So, in order to ensure our franchise partners are reaching their highest potential, we use score cards to measure their store's performance as part of our CAPMastery program. These score cards set performance expectations and help operators identify areas of opportunity in their business.
Some of the criteria included in our score cards include:
Customer satisfaction scores
CAP U staff training participation
Successful health department inspections
Mobile app participation
Food and labor costs
P&L
Our franchise partners review their score cards with their business coaches during their quarterly in-store meetings and receive coaching to help them reach their goals.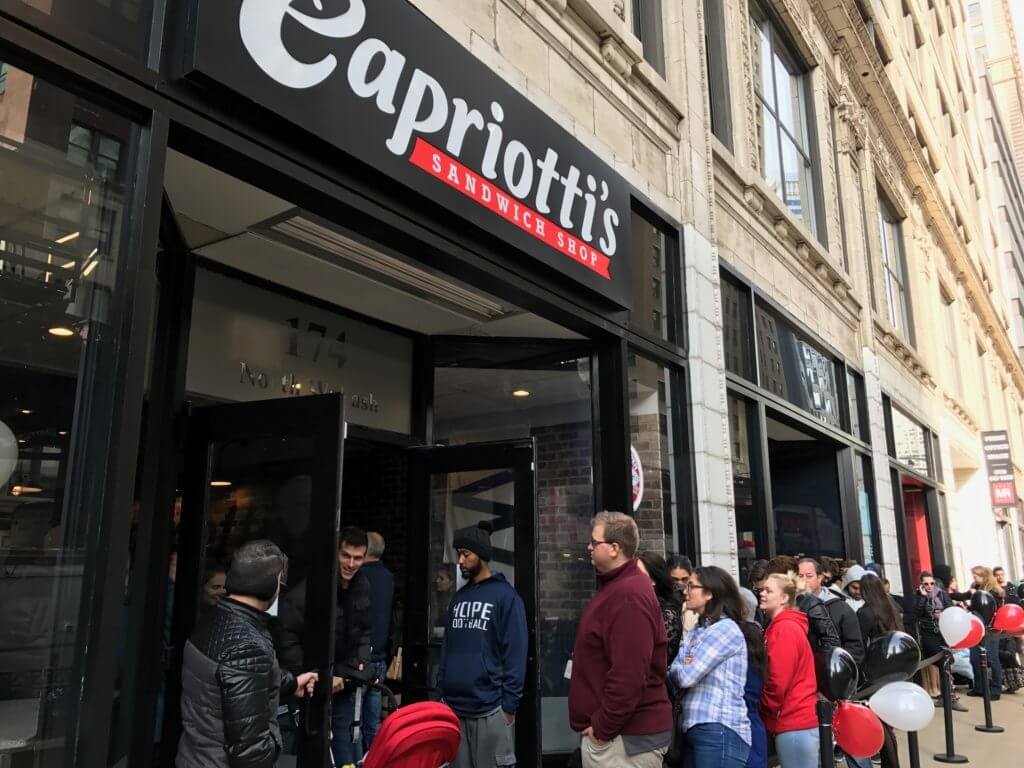 For each KPI, we have set ideal targets for franchise partners to reach – for example, customer satisfaction scores of 80 or above. When a franchise partner reaches a certain percentage in all of those different categories, then they are eligible for the CAPtain's Club. Members of the CAPtain's Club will be rewarded with perks and products to help motivate them to achieve great results.
"That is a win/win for everybody," said Glynn. "Not only is the franchise partner happy because they're profitable, their store is running well and it's clean, but it's also good for us because we've got those shops operating at the top level."
How Capriotti's Franchise Partners Benefit from CAPMastery
Our CAPMastery program not only helps franchise partners set goals for their restaurants, it helps them achieve those goals. By continually checking in with their business coach and reviewing their score cards, our franchise partners are able to improve their sales volume and increase profitability.
"We've definitely found in the last year that stores that are involved in CAPMastery seem to be doing better across the categories overall," said Glynn.
One way our franchise partners have seen improvements in their stores because of CAPMastery is in their customer satisfaction scores. Franchise partners enrolled in CAPMastery receive 2-3 percent higher customer satisfaction scores in the categories of "overall satisfaction" and "likelihood to return."
"Everyone who has been involved with CAPMastery is definitely excited about the program because not only are we able to help them move their results, but they're receiving one-on-one contact with someone from the corporation that's helping them," Glynn said. "We truly are showing them how much we care and how much we're invested in helping them be successful."
Are you interested in a franchise that offers unparalleled franchise partner support? To learn more about franchising opportunities with Capriotti's, contact us at 
(702) 745-5848

or here.