A focus on franchisees and evolution guides the sandwich chain as it gears up for growth.
This article originally appeared in QSR on 3/13/19.
Often times, a restaurant company will draw a line in the sand with its remodel program. Within five years, 90 percent of the units will be refreshed to the Capriotti's model of the future. Capriotti's Sandwich Shop has no plans to get in line with this industry norm, says David Bloom, the brand's chief operating officer. The reason being, Capriotti's has refreshed its store model more than a dozen times over the past couple of years. Its "new model," is one that morphs as it phases in, and then changes again. It's not the other way around.
Naturally, Capriotti's has the ability to out-agile some of its competitors since, at 100 units, it's still a relatively small player in the sandwich segment—a group that includes four brands north of 2,000 restaurants and two above 1,000. Subway has around 25,000 itself. But the culture of innovation at Capriotti's isn't entirely related to size, especially as the company gears up for rapid growth. Founded in 1976 by sister duo Lois and Alan Margolet in Wilmington, Delaware, Capriotti's opened 10 locations in 2018. It also signed franchise agreements for 29 new stores and has 100-plus restaurants in the pipeline, the company said, with 15 expected to open this coming year, including multiple new markets.
The broader goal, though, is to build a footprint of 500 franchise locations by 2025.
Currently, the top 25 percent of Capriotti's are averaging $1.1 million average-unit volumes on initial investments of $376,000.
Bloom says Capriotti's has the momentum to hit 500 quickly and still guard its profitability. The chain's ability to adapt is a key reason why. Like other fast casuals that have touted recent décor updates, Capriotti's fresh design focuses on modern décor, reclaimed wood, exposed brick, concrete floors. There's a mobile app and cubby system for in-store pickup and a pick-up window that allows guests to place digital orders and drive up.
Some other details, however, show Capriotti's mindset and how it differs from the pack, which is to think more in terms of brand evolution than brand rebooting.
One example involves Capriotti's famous turkey ovens. Loyal guests know the chain cooks special turkeys (Butterball makes a line just for Capriotti's) each night, and shreds for every sandwich. Yet that wasn't clear to the average customer, and definitely not in new markets where guests didn't have decades of affinity built in already.
Capriotti's decided to move the ovens and refrigerators to the front of units, providing diners with more transparency and turning a brand differentiator into a theatric element. The hood is also wrapped in a sign that says "slow roasted right here."
"Those little cues make a big difference in terms of people being able to see what you stand for," Bloom says. "People want visibility into what you're doing and they're not always paying a lot of attention because they're busy. So by doing little changes like that, we're starting to get better results in terms of people understanding what we're doing. And that's resulting in higher revenues."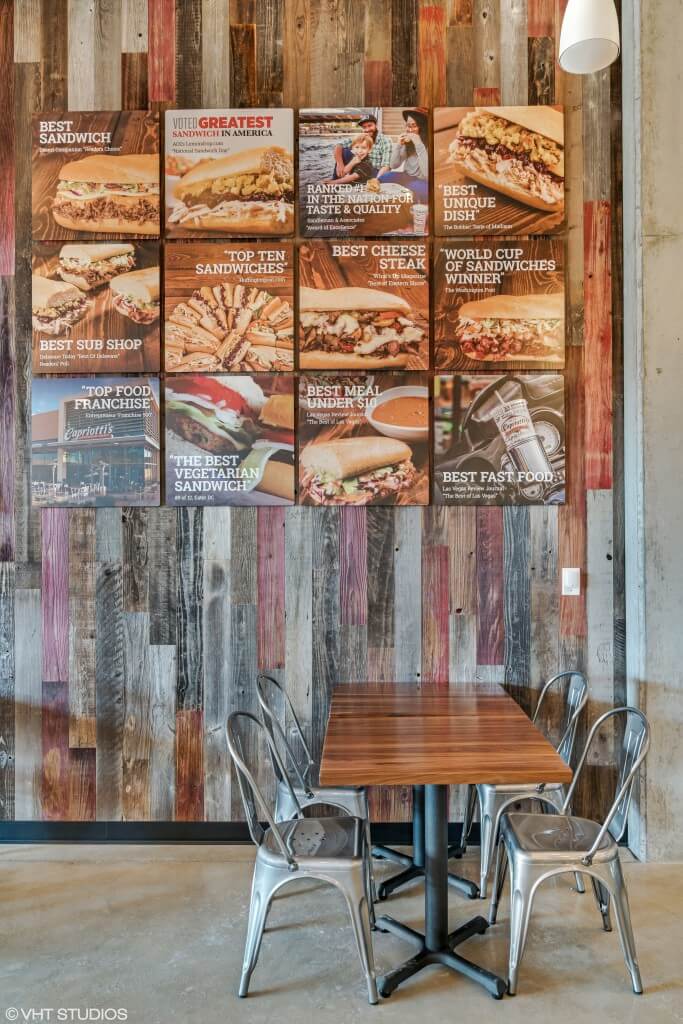 Capriotti's has been on a journey to shrink new store's footprints, too. The smaller update is closer to 1,400 square feet than the old 1,800. There was really no need to have that extra space, Bloom says. Not when delivery and take-out continue to carve a larger slice of the business. Instead of 60–80 seats, 40–45 does the trick, he says. "And the reality is those restaurants are more efficient in the back of the house as well because when you tighten things up, it's just easier to operate from a management standpoint," Bloom says.
"All of this ties together and we're going to keep learning from everything we change," he adds. "And we're going to keep changing."
As Capriotti's tracks toward its 500-unit goal, brand awareness remains a compelling challenge. With four decades of equity, there's plenty of story to tell. But beyond just explaining Capriotti's past and product to customers, the brand needs to engage operators if it wants to scale quickly. They need to buy in as well. Capriotti's unit-level economics are the biggest draw, but so is potential and proof that guests respond past the honeymoon stage, and the store can sustain volume once the local-store marketing efforts taper off after grand opening.
Bloom says Capriotti's has never lost sight of this task because of where its current management comes from. Ashley Morris and Jason Smylie, CEO and president, respectively, grew fond of the chain during their undergraduate days at UNLV. In 2005, they became multi-unit operators and eventually bought the brand from Capriotti's founder in 2008.
Why this unfolded speaks to Capriotti's goals and potential. Morris wanted to open more locations but couldn't get the green light from its owners. They were afraid new units would cannibalize existing ones. "They wouldn't allow us to build 30, wouldn't allow us to build 20, wouldn't allow us to build 10 … I got sick of hearing 'no,' so we said, 'If you won't allow us to buy a territory, why don't we just buy you out?'" Morris told the Las Vegas Review-Journal in January 2016.
Ever since, franchising has played a heavy hand in Capriotti's infrastructure. David Barr and Shelly Sun, two prominent franchising figures, became investors the same year. Barr brought a wealth of experience from YUM! Brands, operating 23 KFC and Taco Bell units. Sun was the former chair of the International Franchise Association and CEO, CFE, and co-founder of BrightStar Franchising LLC.
Bloom says the background of Capriotti's owners defines how it runs and treats operators, and why they're so willing to stick around. Everything from value engineering new builds to making sure the return on investment is healthy and timely. "We have a very significant amount of company resources focused on owning and operating shops," Bloom says, noting about 10 are currently corporate run, although the split fluctuates. "We are still building restaurants for ourselves and have more under construction. The fact that we live it all the time puts us in the boat."
Where's the proof? "They're continuing to expand," Bloom adds. "They're wanting more and that's really kind of the test, isn't it?" Right now Capriotti's is seeing about a 50/50 split between new operators coming in and current franchisees adding additional units.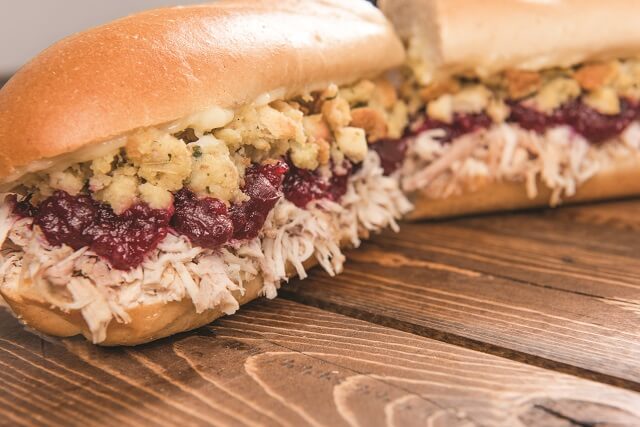 In June, Capriotti's showed another side of its innovation, launching a new loyalty app called the "CAPAddicts Rewards" platform. Punchh worked with the chain to develop an offering that would encourage customer engagement. Users earn points for every dollar spent at any Capriotti's location, and once downloaded, guests can level-up in their status from Level 1 in the "Caprehensive tier," where customers receive a free 9-inch sub of their choice after every 10th visits. It goes up to Level 5 in the "Extraordinary tier," where users access a free small party tray on their birthday, limited-edition Capriotti's gifts, and earn free 9-inch subs twice after every fifth visit. Additionally, aside from surprise freebies and offers, mobile users earn free subs just by referring friends to the app on social media. For every 10 friends that sign up, guests can redeem a free 9-inch sub.
What's clear from the tiered structure is that Capriotti's wanted to nurture the unique relationship it has with loyal customers. "CAPAddicts," in other terms. The brand has long enjoyed a cult-like following in many of its markets, and Bloom says Capriotti's didn't want to lose that during expansion. Instead, it hoped to use technology and accessibility to build an even deeper following, and to find a modern way to rewards those who are already repeat diners.
"That's exactly what we're looking to do. We want to make sure we're giving them what they want, not what we want to give them." — David Bloom, Capriotti's development officer.
At the same time, though, it's critical for Capriotti's to provide easy online ordering as the service gains traction. The brand has national agreements with eight third-party delivery vendors currently, but still wants customers to come to its site and app whenever possible. Making it as seamless as possible is the first step.
Some units do as much as 15–20 percent of their sales in catering, Bloom says. And the new app is designed to give better rewards to customers who order in bulk. Given that it's now based on dollars spent instead of visits, the guest gets much better rewards from larger and more frequent catering orders. The best companies in the space, Bloom says, offering Panera Bread as one example, have "figured out what's important to their customers and they give it to them."
"And they really reward their very loyal customers," he adds. "That's exactly what we're looking to do. We want to make sure we're giving them what they want, not what we want to give them."
Bloom called 2018 more of a foundation-building year than an acceleration one. The pipeline got bigger, but it was the changes from top to bottom that have Capriotti's excited about the future. "Building a pipeline is great," he says, "but if your shops aren't performing and you're not opening in new markets, and you don't have great franchise partners and a good team to support all of that, you know how often it fizzles out."
Bloom says Capriotti's managed most of those changes itself last year, including the design tweaks. It didn't outsource. It was devised internally and curated by their own personal experiences as operators and growth prospects.
"We make a lot of little mistakes along the way," he says. "But they never become monumental, and when we make them we recognize them, and we fix them and go forward."