In the sandwich franchise space, consumers don't just want fresh ingredients. They want all-natural, made-from-scratch recipes that taste great – and we don't think they should settle for anything less.
This has been at the core of our brand, and it's what has kept Capriotti's an award-winning franchise for 40 years. When it comes to sandwiches, for us, the more things change, the more they stay the same.
So, even as we've grown to 100+ franchise locations nationwide – with international locations in the works – and adapt to new technology, we've never lost sight of our roots.
Growing a brand and adapting to meet evolving consumer means shouldn't mean sacrificing quality or the very characteristics that have defined your brand personality for decades.
Here are some ways we stay an award-winning franchise, both by changing and staying the same:
Commitment to Quality
From sodium chloride to nitrosamines, there's a long list of hard-to-pronounce chemical compounds found in processed meats. These compounds are not naturally present in fresh meat – and not only are they decidedly unappetizing, they're also linked to an even longer list of health problems.
As highly-processed meats increasingly became the norm in the 1970s and beyond, Capriotti's founders cracked the not-so-secret code to mouthwateringly delicious subs – the natural, flavorful, savory meats (sans preservatives and additives) that humans were meant to eat.
This revelation prompted them to begin their 40-year nightly tradition of slow-roasting whole, all-natural turkeys in-house, and hand-shredding them each morning to feature in a variety of fan-favorite subs. That includes our award-winning Bobbie, voted 'America's Favorite Sandwich.'
And, even as overly-processed meats gained traction among companies looking to cut corners and save a few cents, our commitment to quality is what has – and continues to – set us apart from the competition. To this day, we use the same quality ingredients and craft everything from scratch – from our cole slaw recipe to our hand-rolled meatballs.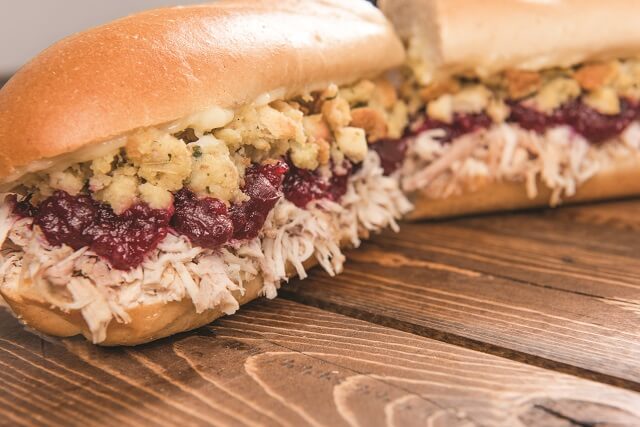 Agility alongside Positive Innovation
We didn't get on board the overly-processed meat bandwagon because not all trends are worth following. Instead, we opted to stay true to our origins and continue to deliver the best sandwiches around.
Nevertheless, not all change is bad, and it's important to stay agile and innovative as a brand. So, when it benefits our guests, we're more than happy to adapt. That's why we have adopted different technology to make ordering easier and more convenient for guests.
Whether it's our new store prototype, pick-up windows or our dedication to online and mobile ordering, it's now easier than ever to get a crave-worthy sub wherever you are. In fact, since introducing easier, tech-driven ordering, Capriotti's franchise partners have seen double digit sales growth – a testament to consumers' growing need for convenient ordering.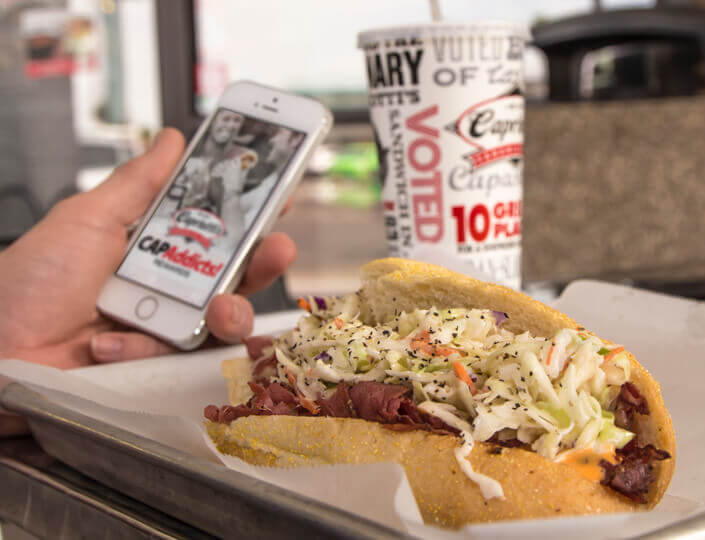 Sound Target Markets and Growth Strategy
We've said it before, and we'll say it again – our concept works just about anywhere. But, in order to ensure the best possible margins for franchise partners, we always do extensive research before expanding into new markets. We make sure franchisees will have plenty of demand and exposure to foster an entirely new loyal fan base of CAPAddicts. This is part of what has fueled our incredible expansion over the past few years, including our record-breaking growth in 2017.
And while some franchisors focus more on growth than unit-level success, Capriotti's has maintained our strong brand by staying committed to quality and innovation, while offering an unparalleled business opportunity for franchise partners.
If you're interested in becoming a franchise partner with a successful and growing brand, contact us at
(702) 745-5848

 or here.