Lack of sufficient capital is one of the biggest barriers to entry when it comes to restaurant ownership. Especially as a first-time business owner, instilling confidence in potential investors and lenders can be an uphill battle.
Helping prospective franchise partners secure restaurant franchise financing – and negotiate reasonable payment structures and interest rates – is just one way franchisors are able to provide entrepreneurs with an effective way to get their business off the ground. At Capriotti's, we offer franchise partners extensive financing support, while providing them access to seasoned professionals who know the finance industry in and out.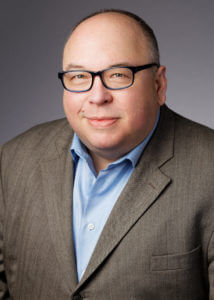 Capriotti's Chief Development Officer, Bruce Evans, explains a bit more about what goes into the financing process, our support and how it sets us apart from other franchisors:
"In our process, we encourage franchise partners to start thinking about financing as soon as possible," said Bruce. "The solutions we provide to franchise partners will help them feel really secure in their ability to get financing quickly. And, with our corporate support and team of professionals, we are able to help ensure prospective franchise partners have a high likelihood of being approved for financing."
Making Sure You're Not Alone in the Process
Most of our prospective franchise partners turn to the Small Business Administration (SBA) as a lending resource, and many first-time business owners are a good fit for SBA loans. These loans typically require business owners contribute 30 percent of the total project cost, and the SBA will submit the remaining amount for the project. Once approved for the loan, the SBA will likely want to move forward to close the loan as soon as possible, which is not always in the best interest of the franchise partner.
"The real estate process can take 120 to 180 days to secure a site, which is going to be immensely important for a franchise partner when looking to close a loan," said Bruce. "It's great for first-time franchise partners to have access to professionals, like our brokers, who understand the process really well. They can not only streamline things and make it easier on the franchise partner, they have developed relationships with different lenders who are likely to invest in our brand, and understand the importance of holding off until we've secured a good site."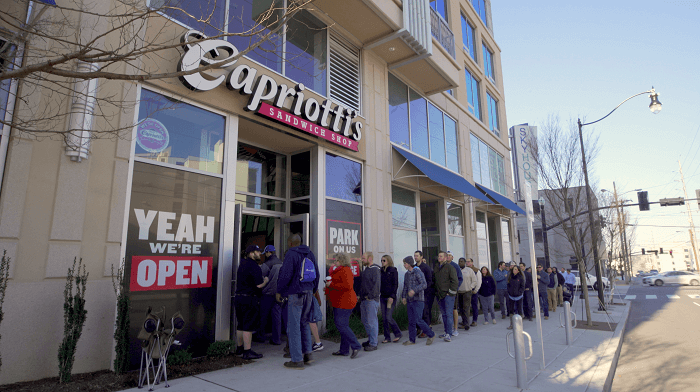 Instilling Confidence in Lenders and Business Owners Alike
The benefits Capriotti's offers our franchise partners when securing restaurant franchise financing extends beyond the industry experts they can use to make the process easier and more efficient.
"Especially with your first shop, it's much more beneficial to align yourself with an established brand like Capriotti's," Bruce said. "The lenders will be digging much deeper into Capriotti's than you, so when they're vetting you for things like credit score and available capital, they'll take Capriotti's proven model and track record of success into account. That takes a lot of pressure and scrutiny off of you."
Franchise partners draw from Capriotti's proven record of success to help secure a loan. They'll also have access to all the materials that lenders will want to see to ensure a solid business model.
"When looking to approve a loan, lenders will be very meticulous and ask you a lot of detailed questions – what's your operating system, what does your menu look like, why do you think it'll be a successful business?" Bruce said. "These are all questions we have answers to with our pre-established systems, so it's much more effective to show these to a lender than a hypothetical set of circumstances you've come up with on your own."
An Open-Door Policy Helps Our Franchise Partners Unlock the Key to Success
Franchise partners also have regular access to Capriotti's leadership team, who have a wealth of knowledge and experience in the finance industry that franchise partners in the loan process can draw from.
"At Capriotti's, several members of the leadership team possess extensive finance industry experience," Bruce said. "Our CEO Ashley Morris has a background in finance, and he's secured loans, gone out and sourced capital and brought in investors many times over. So, he understands the industry really well and is available to franchise owners for guidance."
Capriotti's open door policy also sets us apart because we not only help our franchise partners secure restaurant franchise financing, but run their businesses effectively every step of the way.
"There are not many companies where a franchise partner could pick up the phone and talk to the CEO or a franchise development officer, so we're really there to help them through every step of the process," Bruce said. "We'll definitely get involved, if need be, to help our franchise partners make the best possible decision – no matter where they are in the process."
To learn more about franchise opportunities within a rapidly growing industry, contact us at 
(702) 745-5848

or here.