Heath Mitchem is no stranger to large-scale projects. Before becoming a multi-unit Capriotti's franchise partner in the greater Philadelphia metro area, he worked in capital procurement for multiple Fortune 500 companies sourcing specialized equipment and construction services to build factories, and he helped oversee the construction of manufacturing plants that produce numerous vaccines.
And while Heath had experienced great success in these roles, there was a thought that kept nagging him: he was always working for someone else.
"My wife and I always dreamt of one day owning our own business," Heath said. "We knew franchising would help fill in the gaps in our knowledge of restaurant ownership and allow us to step in with a safety net."
In 2018, after another week of endless corporate meetings, Heath decided to take matters into his own hands and pursue franchise opportunities.
This set him on the path to becoming a Capriotti's franchise partner.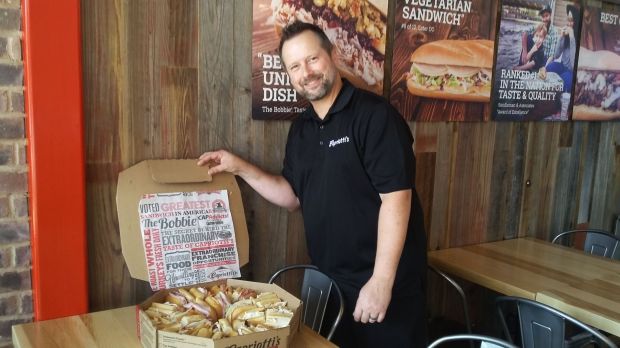 An Exceptional Product, Extraordinary Franchise
As a long-time fan of Capriotti's, Heath's mouth would water thinking about a Wagyu Cheese Steak as he made his way to Capriotti's in Exton, Pennsylvania. Though it was a little out of the way for him, it was worth the drive.
Early in 2019, Heath and his wife got in touch with Capriotti's to learn more about the franchise opportunity. With every conversation they had with the Capriotti's corporate team, their confidence and enthusiasm grew.
"Capriotti's has a quality product that we believe in and can stand behind. It is something we looked forward to eating every time," Heath said. "They also had lower capital costs compared to other franchises we were considering."
By the middle of 2019, Heath and his wife began negotiating an agreement for a location in Downingtown, PA, not far from the Exton shop they often visited.
"The current owners [in Exton] were actually thinking about selling their restaurant. Luckily, we asked the right questions at the right time," Heath said.
From that point, Heath and his wife took ownership of the Exton location. Since then, they opened the Downingtown location in August and are about to start construction on a third location in Malvern, which should open in April 2022.
Over the course of a few months, Heath and his wife went from intending to open one Capriotti's franchise to having three locations serving the public exceptionally delicious sandwiches by 2022 and they are also in process of searching for their fourth location.
Set Up for Success
Despite not having experience in the restaurant industry aside from his time working at a restaurant back in college, Heath has been able to rapidly scale his investment with Capriotti's.
With the corporate team's support, Heath's road to opening multiple Capriotti's restaurants was fast-paced and relatively simple. The corporate team helped Heath with the shop design, permitting, GC selection and equipment design.
"The Capriotti's team partners you with a very capable realtor from your area," said Heath. "They connect you with the right people, help you make decisions in your best interest and keep you on schedule."
Another important step in the process is signing up with the third-party delivery aggregators as that's the primary means for getting in front of additional customers.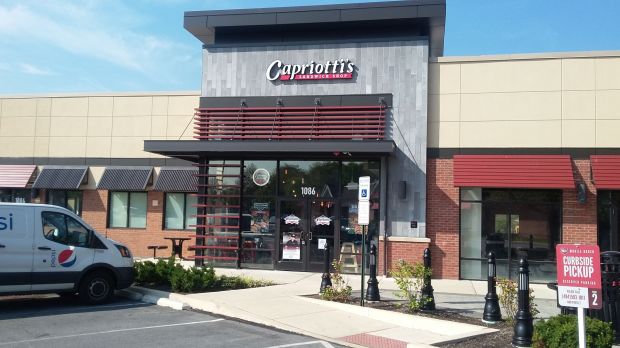 Finding the Right Team
For Heath, hiring the right people is fundamental to your success as a franchise partner and your satisfaction as a business owner. The key to hiring the right people is asking questions during interviews that will help ensure confidence and their personality will mesh well with the rest of your team and your goals.
"Ask yourself if you see yourself getting along with them and if you're able to trust them," said Heath. "My first manager helped me get everything going in the right direction, we hired the right team members that like working together."
In addition to hiring the best talent, Heath took it upon himself to really get to know each employee working alongside them several days per week for the first month. This helped him identify individuals with the capabilities and capacity to do more, take on additional responsibilities and become members of the management team. Our goal is to always promote from within first, and only go external if we have to.
With the right staff in place, Heath's businesses are booming. Leveraging his existing team and growing his staff as needed, Heath anticipates the new brick-and-mortar shop will also be a high-selling store thanks to its location and business park neighbors.
With the help provided at the corporate level and the right teams in place, Heath's locations are positioned for success.
"My best advice is don't be afraid to ask questions and follow the advice from corporate," Heath said. "Be open-minded and try unique ways of getting out to the market."
Looking for a franchise that's in-line with your entrepreneurial goals? Contact us online for more information on getting started!