It didn't take long to learn Capriotti's would be a hit in Chicago.
A line stretched out the door and down the block when franchise partners Craig Garofalo and Andy Poch opened their first sandwich shop in Chicago's busy downtown Loop neighborhood in 2016. Not only were they going up against several existing and well-known sandwich concepts in the area, they were also going up against all kinds restaurants – quick serve, fast casual and full service. Plus, there is constant competition from the Windy City's first food loves – Chicago-style hot dogs and deep dish pizza.
Love for Capriotti's Grows
The franchise partners were confident Capriotti's would thrive in Chicago, though.
Craig grew up in Wilmington, Del., where Capriotti's was founded more than 40 years ago. He's been enjoying the sandwiches since he was a little kid and developed a good idea of where creations like The Bobby would have the greatest appeal. He met Andy in culinary school at Kendall College in Chicago, so the friends became familiar with the taste buds of Chicagoans. They knew the Capriotti's menu would be welcomed in Chicago.
"Chicago is a foodie market," Craig said. "We wanted to bring them something truly special. It was important to Andy and me to open a place where we truly enjoy the food ourselves and felt proud of what we are serving. Capriotti's met both requirements."
Craig and Andy opened a second Capriotti's in the Fulton Market district of the Far West Side neighborhood in early 2018. Fulton Market, the former warehouse and stockyards district that made Chicago famous, is known today for its gourmet food offerings amid tech companies and millennial residents. It's a different scene than the Loop – yet Capriotti's appeals to the daytime work population and local inhabitants.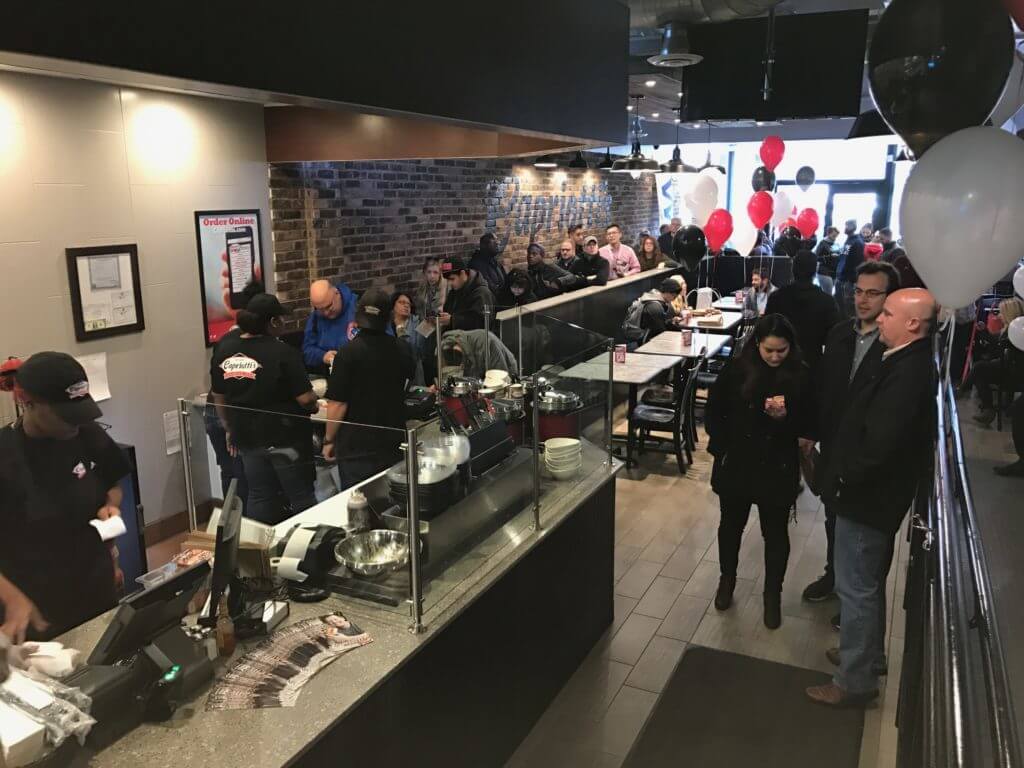 Media and consumers took notice. When news of a second Capriotti's opening in Chicago got out, it was picked up by several media outlets, including radio stations, newspapers and magazines. Hundreds of positive reviews appeared on Instagram and other social media sites. Craig was even tapped by the local morning news program on CBS TV to provide tips for feeding a crowd at NCAA Basketball March Madness parties. The segment featured prominently displayed Capriotti's branding on delivery boxes and containers.
Chicagoans Love Capriotti's at Home and at Work
Capriotti's knows that just because a market loves a concept does not mean there will always be a long line outside the door. Convenience is a large part of what's driving demand, and that includes delivering product to consumers these days rather than consumers coming into restaurants. Craig and Andy are among the many at Capriotti's embracing not just the demand for delivery, but the consumer preference of ordering food through third-party services, such as GrubHub, Door Dash and others, to have food delivered to their homes and work.
It's one way to reach more customers in Chicago, a city of 2.7 million people living in 237 square miles. While they still serve a lot of guests who come through their doors, delivery has been a growing part of Craig and Andy's success – and the numbers reflect the Windy City's love for Capriotti's. They partner with eight different online ordering and delivery services, and increased their delivery and catering sales from $6,300 in January 2017 to $32,000 in January of this year – a 500 percent increase.
It's no wonder the Craig and Andy plan on opening a third Capriotti's location in Chicago.
To learn more about franchise opportunities with Capriotti's, contact us at 
(702) 745-5848

or here.